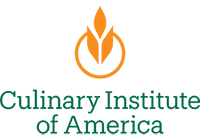 The Bakery Café is an elevated casual dining experience brought to you by the students and faculty at the Culinary Institute of America. Delicious choices await you at The Bakery Café. Whether you stop by for a refreshing beverage, a specialty salad or sandwich, or freshly baked breads, handmade chocolates, pastries, cookies, and tarts to take home, it will be a visit to remember.
Make the most of your visit. Enjoy a handcrafted coffee from our full menu of hot and cold beverages. Choose to enjoy your selections either indoors or in a stunning al fresco setting. On the go? Let us know and we'll pack-up everything for you to take on your travels through the Napa Valley.
The Bakery Café is a student-run, faculty-led teaching restaurant at CIA Greystone. These students are in their final courses, and will soon graduate to become top chefs or continue in their studies to become future leaders, entrepreneurs, or innovators in the food industry. Baking and Pastry Arts students spend their semester rotating through and perfecting various positions within the front- and back-of-house to gain the hands-on experience that prepares them for the industry.
---
Hours
Join us for your café favorites Tuesday–Saturday from 10:30 a.m.–3 p.m.
Full lunch service avaliable from 11 a.m.–2 p.m. with grab and go selections from 2–3 p.m.
Additional Closings:
April 14–June 8, 2023 (Spring Break)
June 27, 2023
July 4, 2023
July 18–19, 2023
August 4–September 5, 2023 (Summer Break)
Savory Menu
Salads and Soup
Caesar Salad 6
shaved Asiago, anchovy
add chicken +2
Cobb Salad 6
mixed baby greens, romaine, bacon, chicken, avocado, tomato, egg, and gorgonzola with honey Dijon vinaigrette
Soup 6
today's inspiration with fresh baked bread
---
Sandwiches
with choice of: chips, deli side, or cup of soup
Reuben 8
pastrami, corned beef, sauerkraut, Swiss cheese, Russian dressing, house made rye
BBQ Pulled Pork 8
house made Dutch crunch
Chicken Salad 8
toasted house made croissant
The Cuban 8
pulled pork, ham, queso Oaxaca, mustard, dill pickle, house made whole grain bread
Ham and Irish Cheddar 8
butter, house made baguette
Turkey Club 8
oven roasted turkey breast, smoked bacon, Swiss cheese, garlic aioli, tomato, romaine, house made white bread
Café Salmon Bagel 8
smoked salmon, red onion, cream cheese, capers, house made toasted sourdough bagel
---
Additions
Quiche Special 7
with simple greens, honey Dijon vinaigrette
Hearth Baked Pizza Special 7
fresh from our bread ovens
Dessert and Bread Menu
Pastries
individual flavors and menu items may change
Signature Tarts 3.5
CIA Citrus Tart
(made with citrus picked from CIA garden)
Chocolate Caramel Tart
Apple Crumble Tart
Signature Specialties 3.5
The Apple
Orange Truffle (Vegan)
Daily Plated Dessert Additions 5
AQ
---
Pound Cakes
Individual 2 | Whole 6
Carrot Cake
Lemon Cake (Vegan)
Chocolate Financier (GF)
---
Cookies
Triple Chocolate Cookie (GF) 2.5
Roasted Peanut Cookie (Vegan) 2.5
Signature Shortbread Cookie 2.5
Signature Chocolate Chip Cookie (Vegan) 2.5
---
Hearth Baked Bread Loaves
Swiss Rye 5
Contains: Gluten (Vegan)
Dutch Crunch 5
Contains: Gluten (Vegan)
Sandwich 5
Contains: Gluten, Milk
Whole Wheat 5
Contains: Gluten (Vegan)
Baguette 3
Contains: Gluten (Vegan)
We frequently update our menus so that you may enjoy inspired seasonal offerings and our students can get the most from their education by working with the freshest ingredients available. While we strive to keep our online menus as up-to-date as possible, please understand that menu items may change daily.
Tour the Campus
Enjoy a tour of the historic Greystone building, home to the CIA's California degree and certificate programs, Brother Timothy's Corkscrew Collection, the Rudd Center for Professional Wine Studies, the Ghirardelli Chocolate Discovery Center, and more.

Learn more >
---
Shop the Spice Islands® Marketplace
Gather your wish list for everything food and wine-related, and come prepared to shop. The Marketplace is a fun and fascinating shopping experience you won't want to miss. Open Thursday–Monday, 10:30 a.m.–6 p.m. Phone: 707-967-2309.

Visit us online >